---
---
Enjoy playing ping pong with all your friends and family with an all-in-one ping pong table tennis set that comes with all the gear need to get a game going!
Whether you're just starting to play table tennis and like to practice, want to test skills against friends, you need quality rackets and balls to keep your game going strong. That's why we created this universal Nibiru Sport Table Tennis Set that comes with high-quality plywood rackets and ping pong balls that help you get the most out of your play.
The net can be set up in seconds. With our simple design your playing experience is seamless & fun.
Our nets are made to last. With the design of being portable, things are easier to break. We use a strong nylon mesh to get high density and strong pull resistance.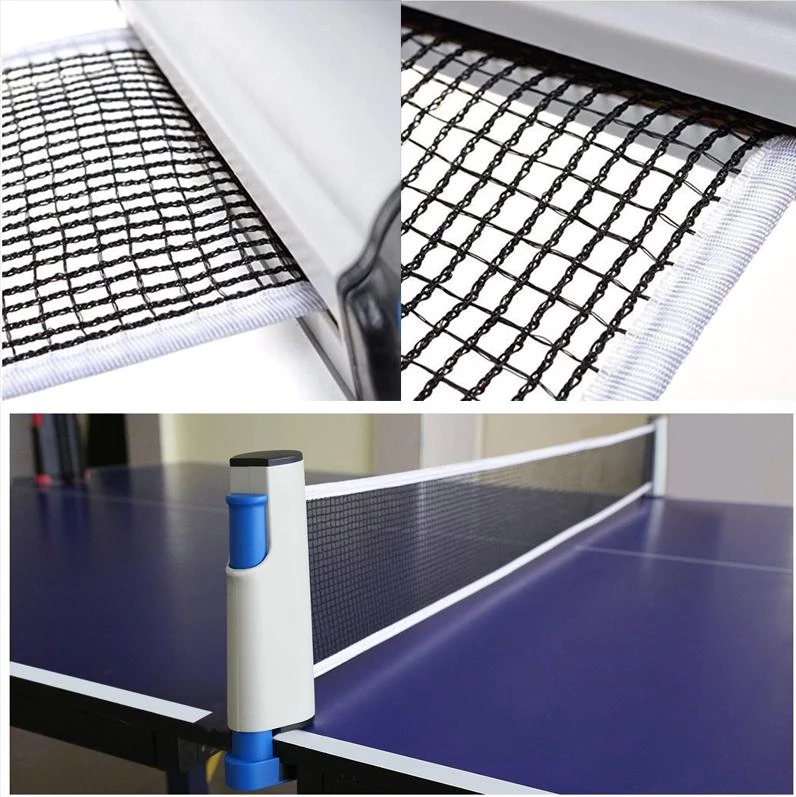 COMPLETE PING PONG SET - This professional 4 Star ping pong paddles set of 4 also includes a replacement net, retractable ping pong net with posts, and 6 high-quality ping pong balls to slice epic shots with control

ENHANCED ERGONOMIC RACKET DESIGN - Designed with a non-slip grip, these table tennis paddles feature a peel-resistant rubber surface that offers the right balance and control with a flared handle and triple-sanded soft-touch body

PROFESSIONAL PING PONG BALLS - These 40mm ping pong balls are a standard in size, come in both orange and white, designed to meet strict ITTF/USATT requirements. Ready for competition or tournament play

INNOVATE BLUE SPONGE STRIKING SURFACE - The 2.00mm blue sponge in our paddles help you dominate your game with bounce and control

STEADY, RETRACTABLE, PORTABLE NET - Each ping-pong paddles set also includes a regulation ping pong net for any table with prolonged use clip system and anti-slip surface for home or portable play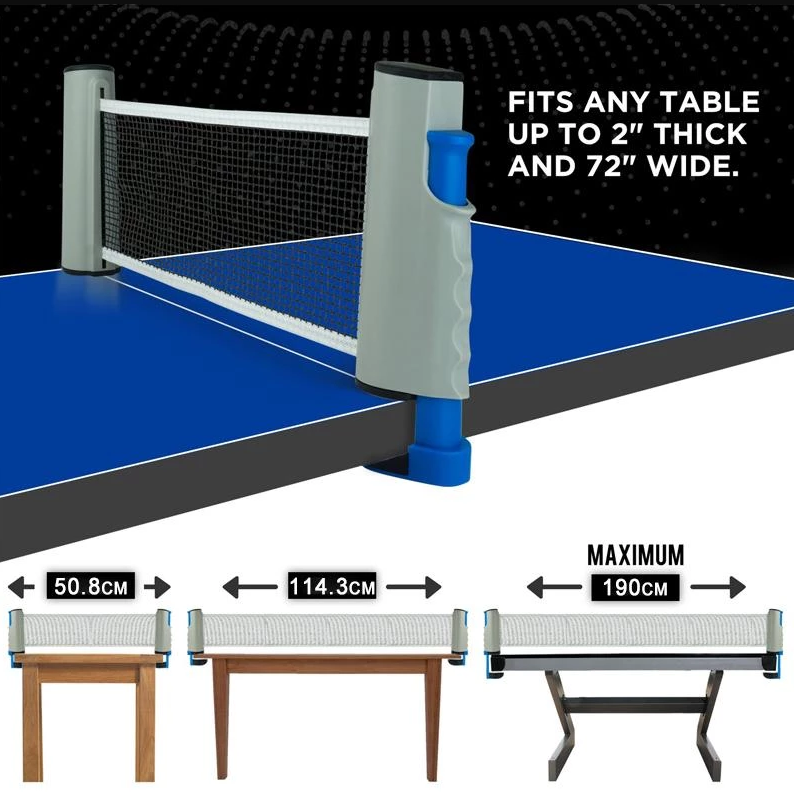 Retractable Table Tennis Net is designed with a spring clip system, which is easy to set up and off. Simply push the spring clip and the net expands. The design makes this net practical, compact and convenient which makes it ideal for all table tennis fans.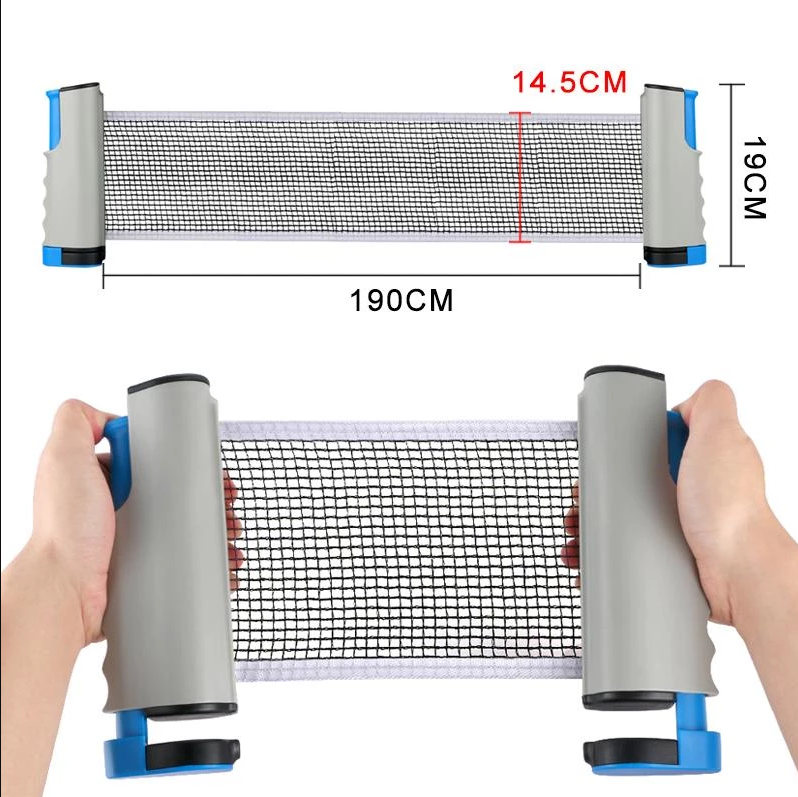 Turn any tabletop to a crazy ping-pong match with our portable table tennis net! The Retractable net can expand up to 6.2 feet or 1.9m and retracts for easy storage.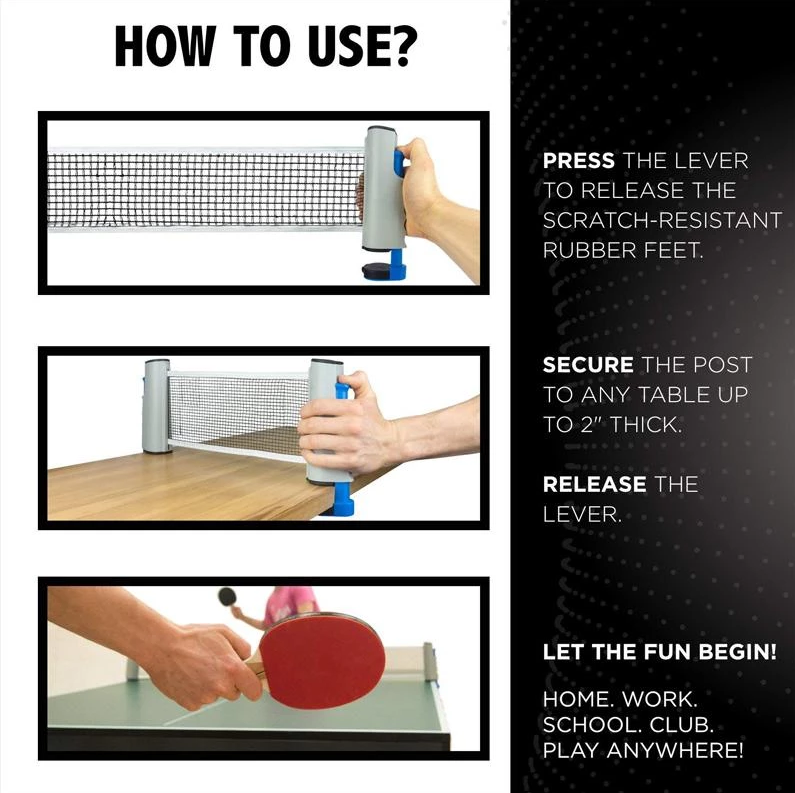 Play Table Tennis Anywhere on Almost Any Table Anytime with this Retractable Table Tennis Net. 
Features
Compact

 

for easy transport
Adjustable-length net

 

expands to 200cm
Can be clipped on almost

 

any surface

 

(thickness less than 5cm)
Retractable

 

net easily expands, retracts for

 

easy storage

This

 

adjustable

 

net can easily fit in your bag without becoming a tangled mess
Ideal as a gift for all ages and

 

portable

 

for indoor or outdoor use
Spring clip system
Simply clamp down the post, the spring cock under the net can gently be clipped on the table surface
High-duty anti-deformation Net
Woven from high-quality nylon mesh

High density and strong pull resistance
Specification
Weight (g): 

360g

Size:  13

cm x 19cm
PACKAGE INCLUDED
1X Retractable Table Tennis Net
---
Why Buy from Us?
1. 30 Day Money Back Guarantee!
2. Safe & Secure Payments with PayPal® & Stripe® Card Payments
3. Worldwide Shipping at Low Cost
4. Easy Tracking of Order with Tracking Code
5. Fast Customer Response
6. Low Cost Shipping with Insurance
Shipping Details
US Delivery: 5 - 10 Working Days
CA Delivery: 5 - 15 Working Days
International Delivery: 5 - 25 Working Days
We use Banking Level Encrypted SSL Security for 100% protection!
---